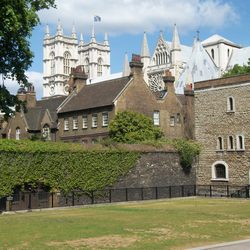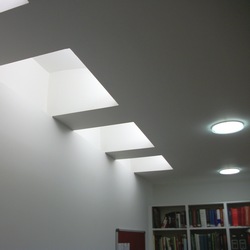 Historic Project

Westminster Abbey Air Raid Shelter

Location:

Westminster, London

Client:

Architect:

Purcell Miller Tritton

Cost:

£110,000
An Unusual Building
Nestled within the tranquil gardens of Westminster Abbey, just across the road from the Houses of Parliament, and behind an historic stone wall, squats a barely noticed reminder of World War 2. With thick concrete walls and roof an air raid shelter has undergone a transformation to become a new office and archival storage area.
Comfortable Environment
With such an obviously enclosed environment there was concern that the office could easily overheat in the summer. To alleviate this it was decided to take advantage of the large thermal mass offered by the thick concrete walls of the shelter. To ventilate the space a heat recovery system was installed, with the supply air being channelled through a labyrinth hidden between the office walls and exterior concrete walls. This allows the air to interact with the concrete's thermal mass, cooling it in summer and heating it in winter, maintaining an ideal stable temperature.
Avoiding The Cave
Another potential problem with the low-ceilinged, windowless space was that it could become oppressively cave-like for anyone working there. To create a more open feeling the lighting was carefully designed to include recessed spaces around the walls at ceiling level with lighting concealed within. This replicated the effect of daylight coming from conceptual rooflights.
Archival Environment
The environment of the archive area itself is kept stable with minimal plant (thanks to the thermal mass, and humidity buffer provided by clay plaster finish). As well as low maintenance this also ensures extremely low running costs.