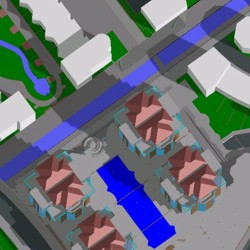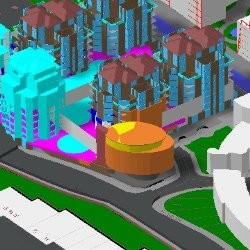 Housing Project

Canada Water

Location:

London

Client:

Ampurius Holdings

Architect:

Dransfield Owen De Silva

Cost:

£20,000,000
The Development
Canada Water Site D, The Water Gardens, is a mixed residential development with seven high-rise apartment buildings, linked by a ground-level podium providing parking and local amenities. Private and housing association flats create high density urban living on a brownfield site.
Effect Nn Existing Buildings
The local authority planning department was concerned about how the development would affect the light reaching the surrounding properties. To ensure the scheme would be acceptable, its effect on daylighting and sunlighting of the existing houses and flats was examined using Building Research Establishment and British Standard guidelines. The daylight and sunlight with and without the new buildings were calculated using a 3D computer model of the development, positioned exactly in relation to existing buildings with the help of Ordnance Survey data. Shadow casts, showing the direct sunlight at varying times of day, were prepared using the model. Daylight calculations predicted the light level inside the rooms of the existing properties, as well as in the new development. These demonstrated that ample light reached into the rooms.
Good Light
The modelling ensured good conditions in the local environment, with enough sunlight and daylight inside the buildings and on the gardens between them. Thanks to the consideration given to issues of lighting, the scheme was given planning approval by the local authority.