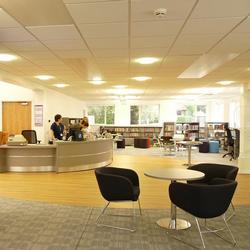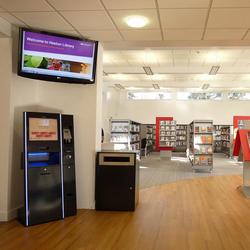 Leisure Project

Location:

London Borough Of Hounslow

Client:

Architect:

Cost:

£700,000
The Libraries
As part of an ongoing refurbishment scheme the libraries at Heston and Osterley, in the London Borough of Hounslow, were completely refurbished to provide modern and attractive facilities. This involved the complete stripping out of existing services and installation of new water, heating, lighting and IT.
Heating
In order to utilise fully the available floor space for library services the public areas are heated by ceiling mounted radiant panels. The heating is zoned so that each distinct area of the library is maintained at a comfortable temperature. Back-office areas are heated by a conventional radiator system. Two new high-efficiency condensing boilers were installed in each library to provide heating and hot water. Standalone Trend controls monitor and control the services, the controls being designed to allow future connection to a Borough-wide network.
Lighting
A new lighting scheme was carefully designed to create a welcoming reception area and well-lit library and IT areas. To reduce energy consumption lighting is controlled by a combined passive infrared detector/photocell, with back office areas having an override off switch. External lighting is photocell and timeclock controlled.
IT Provision
The computer provision expected of a modern library was put in place. This includes public access to the internet, both by the libraries' own PCs and wifi access. Cutting edge RFID provision has also been put in place to allow self checkout and return of books—a more convenient system for custumers which has the added benefit of freeing staff to help with more difficult queries.