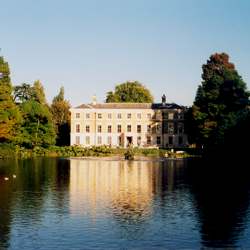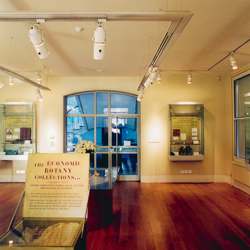 Historic Project

No.1 Museum, Kew Gardens

Location:

London

Client:

Architect:

Cost:

£1,500,000
The Building
Museum No.1, which opened in 1857, was planned by the original architect, Decimus Burton, to house Kew's growing collection of plants. A lottery-funded project has restored the building as an exhibition centre and educational space.
Exhibition
Designed in conjunction with the architect and exhibition designer, flexible lighting and controls were installed for the exhibition spaces. The space is adapted to allow some of the incredibly diverse specimens in the botany collections to be displayed.
Lake
The opportunity was taken to install a fountain in Palm House Lake in front of the Museum. Floodlighting of the facade facing the lake uses energy efficient buried floodlights, arranged to avoid light pollution, and providing a suitable level to accord with the surroundings.
Concealing Services
Ventilation of lecture rooms and ground floor exhibition is by loft-mounted fans and duct liners threaded through the existing chimney flues. Heating pipework is concealed in floor ducts and electrical cable in underfloor trunking.
Lighting
Dimmers are used for the reception, museum, and education space. Office and seminar room lighting harmonises with the available daylighting. Staircase lighting uses concealed light-boxes and fibre optics to projectors beneath flights of stairs. Track luminaires for ground floor exhibition, fibre-optic lighting of the display cases with gobo lights on cabinets. A conservation light level of 50 lux is provided for delicate exhibits.
Civic Trust
The project has won a commendation from the Civic Trust for contributing to the quality and appearance of the environment.