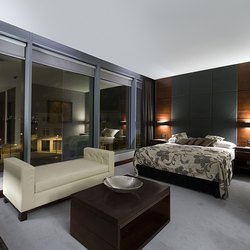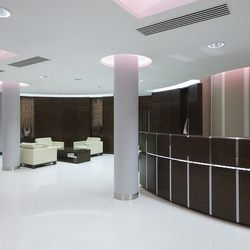 Leisure Project

Location:

Battersea, London

Client:

Lrfw Ltd

Architect:

Cost:

£5,500,000
The Hotel
Hotel Rafayel consists of 65 individually crafted rooms, each one unique with its own luxurious character, set across four storeys of irregularly shaped space in Battersea's landmark Falcon Wharf building overlooking the Thames. Originally developed to be used as open-plan office space, the hotel's main facilities include gourmet restaurant, conference suite, fitness centre, swimming pool/spa area, and aroma therapy treatment rooms.
Challenges
Building services requirements specific to conventional open-plan office space are vastly different to the needs of highly cellularised space typical for a hotel environment. Lack of any external plant space and insufficient existing riser provisions posed significant challenges. However, the resulting building services design proved to be as unobtrusive as it is efficient.
The hotel interior conceals an intricate drainage system which was entirely devised for the new purpose, as drainage requirements in a hotel are much greater as well as more spread-out than in an open-plan office space with clustered toilets. External condensing equipment had to be specifically configured for internal installation to overcome the lack of external plant space available, to ensure adequate operation. Variable air volume ventilation featuring heat recovery works in tandem with a high efficiency heat recovery air-conditioning system, all linked into a sophisticated room occupancy sensing building-management control system enabling individual room shut-off when not used. The result is an extremely efficient approach that minimises the energy requirements for the hotel—carbon emissions from those systems are reduced and running costs are significantly lower.