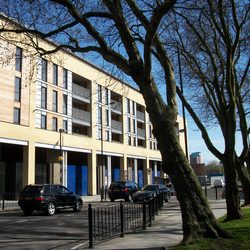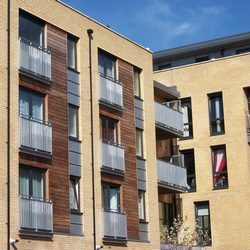 Housing Project

Rifle Street

Location:

London

Client:

Architect:

Contractor:

Cost:

£18,500,000
The Development
The brownfield development has 6 commercial retail units and 122 residential units arranged around a central quadrangle.
Utility Supplies
A new electricity substation was provided and a boosted water installation delivers pressurised water to the high-rise blocks. Gas meters for the flats are cleverly integrated into the design, being mounted externally but remaining easily accessible at the end of the corridors on each floor. Pipework runs from the external meter positions within the screed to the individual flats.
Car Parking
Car parking was at ground floor level, with a landscaped courtyard above it. By ensuring a minimum free area at the sides of the car park, "assisted natural ventilation" in the form of variable speed impulse fans mounted on the underside of the slab could be used to remove smoke and fumes.
Secured By Design Lighting
Well-designed external lighting was an important part of achieving Secured by Design certification. The detailed arrangements were a delicate balancing act between energy use, convenience, and security.
Sustainability
Sustainability measures included rainwater harvesting for courtyard irrigation, low energy lighting, and measures to reduce potable water usage. The entire scheme was looked at as a whole to achieve a truly sustainable end product.
Specialist Systems
Integrated dry risers and smoke vent systems were provided in line with the fire strategy. Terrestrial and satellite channels were supplied to all units, and there was a full video door entry system.