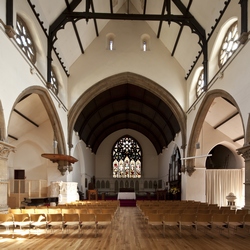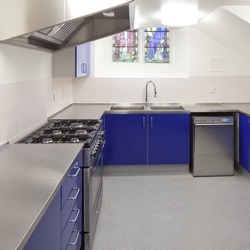 Worship Project

Location:

Highbury, London

Client:

Parish Church Of St Augustine

Architect:

Cost:

£800,000
Existing Building
St Augustine's Church, like the majority of such buildings in the UK, is a non-listed parish church. The original building dates back to 1869, with a church hall having been added in 1871. Although the rear of the original nave had already been converted into space used for children's playgroups, only basic kitchen and sanitary facilities were available.
Building Services in a Church Setting
Design and installation of building services present significant challenges in a church, where historical and practical aspects are often at odds with each other. Budgetary constraints and practical considerations such as the likely pattern of usage play a significant factor in the design of optimal heating systems. At St Augustine's effective heating system controls significantly reduce running costs by providing an individual zoning arrangement. This enables isolation of heating when any particular area is unoccupied.
Under-floor Heating in Churches
Underfloor heating installed beneath the new oak flooring provides heat where needed in a neat and unobtrusive way. It would have been insufficient on its own however, so works in tandem with conventional low-surface temperature radiators placed around the nave. This produces an even heat distribution while reducing the number of radiators required.
St Augustine's Church Today
The original Victorian church has been transformed into a building that reflects the contemporary needs of its occupants. The refurbishment included constructing new sanitary and kitchen facilities in the centre of the building, in addition to installing a new energy-efficient heating system throughout. New electrical services have been supplemented by upgrades to the existing electrical wiring, with special emphasis on new emergency lighting and fire alarm systems to ensure the safety of the occupants.