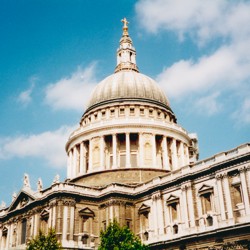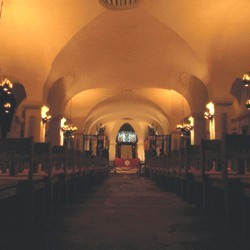 Worship Project

Location:

London

Client:

The Dean And Chapter

Architect:

Martin Stancliffe

Cost:

Various
History
Christopher Wren's masterpiece, begun in 1675, was completed in 1710. The church was built with a full-length Crypt and rooms at the level of the Triforium, in addition to the great central space under the Dome, forming the largest cathedral in Britain, with a reverberation time of 11 seconds.
Improvements
The current projects are the latest of the repairs and refurbishments made to the Cathedral in its long history. Central heating was only installed in the 20th century; one Victorian heating method was a cart filled with braziers moved up and down the Aisle!
The Crypt
Hand-made clay pammets have been newly laid on the floor, necessitating extensive modifications to the heating pipework, as well as providing the archaeologists with some tantalising glimpses of the remains of old St Paul's Cathedral in the foundations.
Triforium
The drawing archive and conservator's workshop occupy this upper level in newly lit and refurbished galleries. The Trophy Room contains Wren's 18 foot long Great Model of 1697, lit internally using fibre-optics. Custom designed spotlights illuminate the accompanying displays.
OBE Chapel
The OBE Chapel has been included in the new lighting scheme, using elegant bronze fittings and dimmers to match the rest of the Crypt.
Other Work
New facilities for the choir and works staff, kitchen, cafe, restaurant, shop, and conference room have all been fitted at the level of the Crypt by careful insertion of mezzanine floors at the perimeter. New drainage pipework has been laid in the culverts under the Cathedral originally built by Wren to remove rainwater from the site.