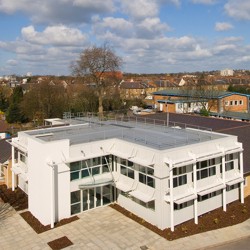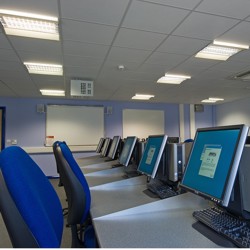 Education Project

Twyford School

Client:

Twyford C Of E School

Architect:

Cost:

£1,500,000
The William Mudge Building
Twyford High School offers students vocational and business courses as well as more conventional subjects at A-level and GCSE. The project has added a 2-storey extension to the William Mudge building at the school, to contain a library, 6th-form centre and ICT laboratories.
Construction
The building programme took 35 weeks, ending in February, and so some work at least had to be carried out during school term. Despite this, the design team and building contractor were able to keep the adjoining building in use throughout the construction of the extension.
Energy Use
Presence detectors formed by integral photocells in the light fittings control the corridor lighting, so that it is always turned off when not needed. The extension makes use of an existing boiler, and to minimise the heat requirement, heat reclaim is used in all mechanical ventilation.
Information Technology
The four ICT laboratories each have 30 PCs, and therefore, together with the mechanical ventilation, comfort cooling has been installed to ensure an acceptable thermal environment.