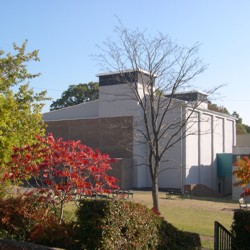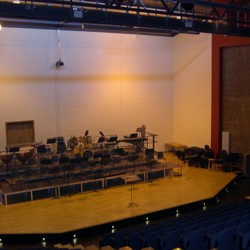 Education Project

Performing Arts Centre

Client:

Architect:

Curl La Tourelle

Cost:

£1,000,000
The School
Dame Alice Owen's School, a secondary school in Potters Bar with more than 1,400 pupils, has a high reputation for music and drama. The new 350-seat performing arts centre is designed both for performances with a full house and teaching with only a few pupils.
Fresh Air
The audience and performers need fresh air. Normal mechanical ventilation designed for the maximum audience wastes energy when few people are inside, and is expensive to run. Instead, use is made of natural stack ventilation. Air is drawn through openings under the seats by natural convection and discharged through high level openings and towers.
Control
A study of the temperature and prevailing winds showed that at certain times the effect could be reversed and cold air poured over the audience, unless a complicated damper control system was used. Instead, to simplify the system, four slow-running fans with a total electrical load of only 400 Watts, equivalent to four domestic light bulbs, force air into a consistent movement pattern.
Acoustic Treatment
Although the centre is close to the M25, and planes to Luton airport fly overhead, large low velocity silencers make it quiet enough for the most discerning listeners.