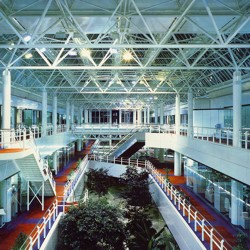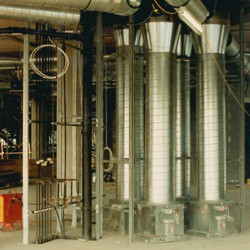 Commercial Project

Operations & Development Centre

Location:

Leatherhead, Surrey

Client:

Architect:

Percy Thomas Partnership

Cost:

£40,000,000
Esso
When Esso decided to relocate their Operations & Development Centre to the middle of the Surrey Downs, it allowed several of their previously separate operations to be accommodated on a single headquarters site.
Comfort
The priority in services design was the comfort of the occupants. Radiant and air temperatures, air movement, humidity, daylight, artificial lighting, and the acoustic environment were all essential factors in planning the internal environment.
Building Form
Computer simulations were carried out to determine the optimum shape and orientation to maximise winter solar gain and minimise summer cooling. Stepped linear blocks oriented east-west enclose a central atrium.
Atrium
The atrium uses underfloor heating and pre-conditioned air from the offices to maintain comfort conditions. A specially designed mix of lamps is controlled to top up the daylight for the bushes and trees.
Sustainable Energy Use
Variable-speed fans and pumps reduce energy consumption to a minimum, using heat reclaim and free cooling wherever possible. It was hoped originally to obtain cooling water from boreholes in the adjoining chalk downs, although in the event a test hole did not produce sufficient quantities of water to prove this would be financially viable.
Flexibility
The configuration of the services maximises flexibility, to allow changes in occupancy, movement of equipment, and varying hours of use over the future life of the building.