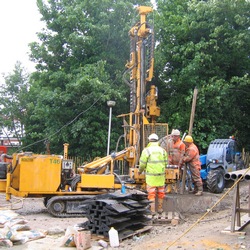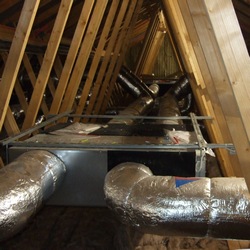 Education Project

Meadowbank Adult Education Centre

Location:

Hounslow, London

Client:

Contractor:

Cost:

£1,000,000
Meadowbank Adult Education Centre was created by the restoration and extension of a disused community centre. It provides a number of classrooms, crèche and a hall available for community use.
Acoustics
The centre is located beneath the flightpath into Heathrow Airport, which created a challenge within itself. The importance of good ventilation in education is well known; however, the noise from passing aircraft makes the use of opening windows impossible. It was therefore decided to provide heat recovery ventilation to all areas to ensure good air supply and reduce the energy costs associated with heating and cooling the building.
The educational nature of the building presented further acoustic challenges with careful selection of plant being necessary in order to keep sound levels to an acceptable level for teaching.
Ground Source Heat Pump
Equally important as ventilation is maintaining a comfortable temperature and computer modelling was used to determine the requirements of the building. One of the planning conditions imposed on the scheme was a reduction of 20% in the baseline carbon dioxide emissions by use of renewable energy. The heating and cooling requirements gave an ideal and practical way to meet this condition, through the use of a ground source heat pump (GSHP). By pumping a brine mixture through buried pipework the earth can be utilized as a heat sink to either provide warmth or extract excess heat from the building. This is "free" heating and cooling (apart from the small amount of energy needed to run the pumps) and helps significantly reduce the carbon footprint of the building.