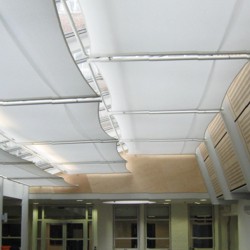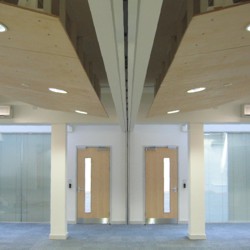 Education Project

CSCAIPE

Client:

Kingston University

Architect:

Cost:

£1,030,000
Centre of Excellence
The Centre for Sustainable Communities Achieved through Integrated Professional Education (CSCAIPE) has been created from a bolted steel structure in a courtyard at the Penrhyn Road campus of Kingston University.
Velaria
The Reading Room glass roof and roof lights to the debating chamber bring in maximum natural light. A series of cotton sun screens, the velaria, in the Reading Room prevent glare throughout the year whilst electrically operated blinds provide the same facility in the debating chamber.
Carbon Emissions
The roof lights open to provide fresh air and natural cooling through most of the year. A heat pump provides heating in the cold months and cooling at the height of the summer. The heat pump gives a lower carbon footprint for heating the building than using the existing boiler system.
Acoustics
Even though higher education establishments are exempt from the acoustic criteria for schools in Building Bulletin 93, the debating chamber and its movable dividing wall have been designed to achieve these levels of sound insulation
Metering and Energy Use
Individual metering of plant, small power, and lighting supplies allows electricity use to be monitored and analysed to prevent unnecessary use. Controls automatically switch off lights which have been left on, and adjust the light output according to daylight.